Dominik Maximini
Dominik ist ein erfahrener Scrum Master, Agile Coach, Trainer und Autor. Früher hat er zunächst ein agiles Start-Up aus einem Konzern ausgegründet und dort einen Innovationspreis für "Innovative Business Design" gewonnen. Danach war er als Führungskraft und Agile Coach bei einem Beratungsunternehmen angestellt. Heute hat er alle Unternehmens-Fesseln abgestreift und fokussiert sich darauf, echte Agilität zu fördern und Projekte zu vermeiden, bei denen es nur darum geht, den Status Quo mit neuen Etiketten zu verzieren. Er ist Professional Scrum Trainer der Scrum.org und Management 3.0 Facilitator. In seinen Trainings gibt er nicht nur die Theorie, sondern auch sein Wissen aus dreizehn Jahren Praxis weiter.
Du möchtest mit ihm sprechen?
Zertifikate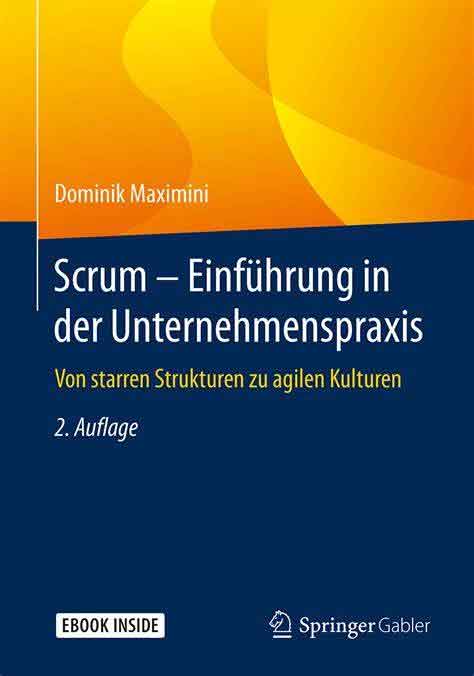 Scrum – Einführung in der Unternehmenspraxis
Von starren Strukturen zu agilen Kulturen
Weitere Informationen
Verhaltensbedingte Kündigung in einem agilen Unternehmen
Agile Days Trumpf 2020
Agile Leadership: Echtzeit-Bewerbermanagement in der Praxis, Learn
Lead Conference 2018
Clash of Culture: What Agile Managers Can Do to Survive
Agilia Olomouc 2017
Von Management 1.0 zu Management 3.0: So Geht Führung Heute
Learn & Lead Conference 2017
User Stories: Going From Misuse to Collaborative Value Creation
Scrum Day Warszawa 2016
I like Dominik. He knows Scrum and how to use it. You would want him next to you in any difficult software development problem.
Dominik is a deep thinker on Agile Methods, as evidenced by his thesis and book. I have the greatest respect for him as a clear analytic observer and advisor.
I have every confidence in recommending Dominik his experience and access to the PST community will provide the foundation to improve the way you deliver software. I also know that Dominik lives the values of Scrum which means you will have a professional experience, even if his honesty will challenge many of your existing ideas.